[ View All Other Cycling Accessories ]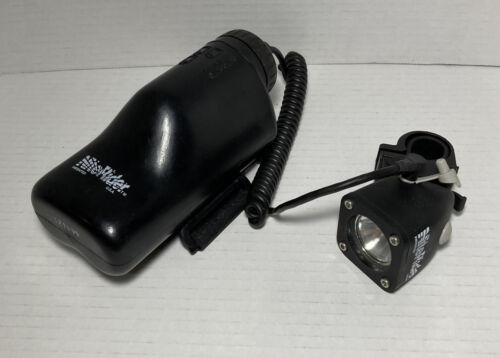 NiteRider High Intensity LED Bike Handle Bar Head Light 10W Black
(Used - 49.99 USD)
Using bicycle headlights is the key to lighting up the trails. After all, biking isn't limited to daylight hours.
Riding at night can be incredibly relaxing, as the weather tends to be cooler and distractions are greatly reduced. Likewise, many cyclists who are commuting by bicycle to work often have to travel back home after dark, especially during the winter months.
Whether your biking at night for business or pleasure, you must do it safely with a head bicycle light. These lights will not only help make the road ahead visible to you but will also keep you visible to the road ahead.
Tip: Headlights are very important in wet weather as well.
It's a curious misconception that headlights should only be used at night. Even in the daytime, wet weather greatly increases the risk of accidents. That's why you should always turn your headlights on when it's raining, snowing, or hailing heavily. This ensures other road users are aware of your presence.
Suggested Bicycle Head Lights
This bike headlight generates extreme illumination and prolonged battery life, making it an ideal lamp for those who still have far to travel after sunset. With three ultra-white LEDs visible up to 3,000 feet and 100 light, it is no wonder this is one of the most popular bicycle safety lights on the market.
In addition to superior strength, it also attaches easily and runs on two AA batteries, so it is easy to keep the road lit. This light is also designed by PlanetBike, which is the leading manufacturer of environmentally friend bicycle gear, making this light good for you and the earth under your feet.
This is a small bike headlight that produces a big effect, blanketing the path in front of you with clear visibility. Given its tiny size, many cyclers are surprised by the strength and scope of its rays, a testament to the big power behind this tiny bulb.
Surface irregularities will be illuminated with this light's awesome candlepower, and the Super Flash setting is strong enough to compel vehicles to pull over in case you are ever in distress. This is an ideal bicycle safety light.
Mountain biking at night is one of the biggest rushes you can experience, but there's no question about it - you're going to need a more powerful lighting system.
When purchasing a light for your
mountain bike
the price may be more expensive. But when you're on the trail, you cannot afford not to see obstacles. Lighting system brightness is usually measured in lumens or watts. When trying to find a good light, look for at least 3 watts, or 300 lumens.
The CatEye Econom Bicycle Headlight has a strong light that can last, when using rechargeable or standard batteries, between 7 hours (in high light mode) and up to 80 hours (in flashing mode)!
If you are regularly caught outside cycling in the dark or heavy fog, then this light is definitely for you. It comes with 6 different light modes and is the brightest of the Cygolite variety. To emit its highly powerful beam it comes with an easy-release USB rechargeable battery. The light also comes with both handlebar and helmet mounts demonstrating that it is built for cyclists determined to get to their destination no matter the natural lighting conditions.
Tip: Bicycle headlights go hand in hand with rear lights
Bicycle headlights are quite useful when it comes to riding safely. However, it is not safe to use the lights without their rear counterparts, bicycle tail lights. Using both together will help you enjoy great visibility to all road users behind and in front of you.
Where to Buy Bicycle Head Lights?
If you are interested in buying bicycle headlights you can buy them in one of these trusted online stores:
Find Bicycle Head Lights on eBay.com
Last Word about Bicycle Head Lights
There is no excuse for biking in the dark. Even if you're a late-nightrider, shed some light on your path with one of these leading head bicycle lights and make the world and yourself visible. If you wish to expand your knowledge about the subject, you are invited to visit my page about bicycle lights.